Learn Spanish in Playa del Carmen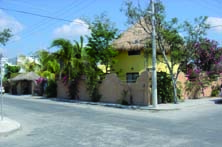 At our Spanish school in Playa del Carmen, classes can be held outside under thatched roofs amidst our own tropical gardens, so you can enjoy the full Caribbean experience. We organize a number of activities and excursions like horseback riding, windsurfing, yoga, movie sessions, cooking classes, snorkeling, beach volleyball and trips to historic Mayan sites.
Minimum age: 14 years old
Partner school
Location
Just 6 blocks from the beach!
Facilities
15 classrooms and 5 extra for the high season
1 conference room (TV, DVD, VCR and stereo)
1 internet / library room with 4 computers and wireless connection
Tropical gardens
1 cafeteria
1 open-air and 1 air-conditioned conference room
1 sand volleyball court
Other Destinations in Mexico