Accommodations in Pamplona
It is a city renowned for one of its festivals which is famous around the world and attracts a great deal of media attention, and yet not many people know the real Pamplona. There is far more to see in this city than just the festival of San Fermín, which includes the Running of the Bulls through the streets and which is both controversial and celebrated throughout Spain and the rest of the world. The accommodation we offer will give you the opportunity to get to know a different side to Pamplona, a side which is well worth discovering, while you are here for your Spanish lessons – and you are likely to find that this city also offers the perfect environment in which to try out everything that our courses can provide, as the quiet atmosphere most of the year will allow you to study in peace without restricting your options when you want to go out and let your hair down a bit.
Enforex can offer you two different types of accommodation in Pamplona, depending on what you would like to achieve from your visit and how much of a budget you have available, so you can set things up in a way that suits you best. Staying with a host family allows you to continually build on what you have learned in class, as well as to experience some authentic homemade Spanish cuisine. This is a great option as you will be able to chat with the family that you are staying with in Spanish about whatever topics may come up, and since they are used to dealing with students they will help you to practice in a more effective way as well as allowing you to really become a part of their family for a while. This will allow you to feel very comfortable in Pamplona, and may lead to you coming back time and time again in the future once you have made some strong bonds and have some people who you can count on being able to stay with time and time again!
Alternatively, a shared apartment will allow you to interact with other students from the school, which is great because it will create a learning centric atmosphere which you can really enjoy. You can talk to the others in your new shared language no matter where they are from, and you will always have somebody to consult with should you have any language related queries! This is also a great way to make new friends while you are in Pamplona, and again this could turn out to be lasting relationships which allow you to see more of the world and give you someone to practice with for the long term even if you only communicate via the internet once you have finished your course and left the city again to come home. Either way, you will be able to learn very well in either location and they may well boost the efficacy of your lessons.
Accommodations in Pamplona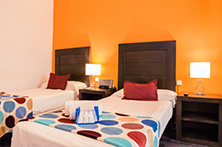 Accommodation Prices