All About Playa Jaco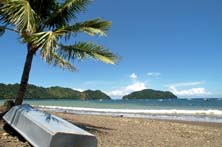 Playa Jaco, located on Costa Rica's central Pacific coast, is famous for its wicked waves and spectacular surf scene. Playa Jaco is a straight-up beach town with shops, restaurants, ice cream stands, nightlife locales and accommodations all conveniently set up near the water.
More and more local "Ticos" and international travelers are attracted to the area's rich natural surroundings and lively nocturnal scene every year. As a result, Playa Jaco has become adept at catering to tourists, offering the best infrastructure on the Pacific Coast. The town also hosts exciting international surf contests.
If you're interested in filling your free time with every imaginable aquatic or land activity like kayaking, horseback riding, biking, fishing, hiking, canopy tours and of course, surfing, all the while meeting new people from all over the world, then look no further. Getting here is an easy 1.5-hour drive from the San Jose International Airport.
More Costa Rica Travel Guides