Accommodations in Cádiz
Many wealthy Spaniards like to go on holiday in Cadiz, so it is hardly surprising that the choice of accommodation that is on offer in this Andalusian city is absolutely first class. This city has all of the glamour that any chic European holiday destination can offer, and it is all available to you as a student as well because there are a lot of great ways to capitalise on this fantastic atmosphere and environment while you are learning the Spanish language. We have affordable choices which will put you right in the heart of this fantastic city, allowing you to get access to all of the locations that you need and want to visit as well as giving you the chance to interact with native speakers easily.
If you choose to stay with a Spanish host family, which is one of the options that we can easily arrange for you, then you can expect to be fully immersed in the Spanish culture, so prepare your taste buds for the delicious home cooking of Andalusia! Cuisine is not the only upside to this arrangement that you will be able to discover: you will also get to see how the local Spanish people really live and how they use the language in a modern and active setting, which is perfect for adding to your learning and helping you to strengthen the knowledge gained in your lessons so that it lasts for a long time and gives you a lifetime's foundation in Spanish which will stand you in good stead for the future. You will also be able to get along with your new host family and make friends with them, and they may even be someone who can give you a place to stay later on in life if you decide to visit Cadiz again and return to some of your old student haunts to practice your language.
If you choose a shared apartment then you will meet lots of students from other countries, who are all here to learn Spanish or to pick up another language at our school. This is a great opportunity to share what you have learnt with others and get to know more about other cultures from around the world, as well as making new friends which may well last you a lifetime. If you like your independence then you would probably be better off sharing an apartment with friends or other students than living with a host family, and the great thing is that you will be able to go out and explore the city with them too if you want some company. This is a great environment for learning too, since everyone there is looking to study themselves and will therefore encourage you to keep up with your classes and even do some extra learning if you are able to!
The following accommodation options are available for those who would like to study at our language school in Cádiz:
Accommodations in Cádiz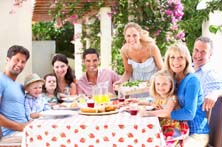 Accommodation Prices