Spanish Courses in Cádiz
In order to span the largest possible area in the Spanish territory, Enforex works with two sorts of schools: fully incorporated institutions entirely pertaining to the Enforex fold, and partner institutions included within the Enforex umbrella. Regardless of the relationship between the schools and the academy at large, the experience for students remains the same in terms of the approach, quality and methodology of our teaching. Nevertheless, slight differences can be encountered in the practical details of the courses.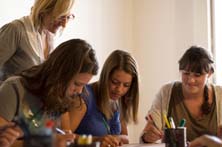 The Enforex Spanish school in Cádiz is one such partner Spanish school of the Enforex organization and, therefore, there are minor differences in relation to the length and type of courses offered. The primary discrepancies between the details of the courses offered in Cádiz in comparison to those offered in fully incorporated Enforex schools revolves around the length of each lesson, which here is 45 minutes. Additionally, the choice within each of the kinds of courses offered is slightly more restrictive. So please read carefully below as you look for the right course for you:
General Intensive Courses
Especially designed for maximum flexibility, these courses are conceived to follow a neutral and wide-scoped approach towards the study of the language. Ideal for prospective students who wish to concentrate solely on improving their language skills and their knowledge of Spanish culture as a whole, these programs can be engaged through the standard Intensive Spanish course, consisting of 20 weekly lessons of General Spanish plus five weekly lessons of Spanish Culture for any period of time, from one week to one year.
Our Spanish courses in Cádiz are there to help you to face up to the challenge and to provide you with a solid framework from which you will be able to explore the best that this wonderful city and this wonderful language have to offer.
On the links below you will find all the relevant information regarding each and every one of our courses, from the general description of the programs to starting dates, specific lengths of the courses, number of weekly lessons and prices. Click on the links below to all the product information and characteristics: