Student Apartments in Spain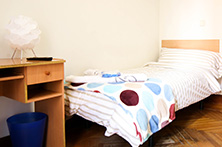 If you want to make new friends from all over the world whilst you learn Spanish in Spain, then this is the option for you!
Our student apartments in Spain bring together international students from the Enforex school in a pleasant, open atmosphere. The apartments are not luxurious, but are completely furnished and equipped. No meals are offered but each apartment has a kitchen with a microwave, pans, cutlery and everything you might need to cook your own food.
There are apartments of different sizes and characteristics, booked according to availability. Most of them are located within walking distance from the school or are accessible by a short ride on public transportation. You can choose between a single, double or triple room.
The student apartment option is available at every Enforex destination in Spain.
2017 prices and practical information
Location
th colspan="4">Type of room
Price per week
Double
Single
Alicante
€ 89
€ 129
Granada
Malaga
Marbella
Salamanca
Seville
Tenerife
Valencia
Barcelona
€ 129
€ 189
Madrid

Location
Extra Day
(Max. 3 days)
Private bathroom
High Season Supplement
Double / Single
Double / Single
Dates
Alicante

€ 45 / night

€ 45 / week
€ 39 / week
19/06 to 20/08
Seville
-
-
Granada
-
-
Salamanca
-
-
Barcelona
-
-
Madrid
-
-
Malaga
-
-
Marbella
€ 39 / week
19/06 to 20/08
Valencia
-
-
Tenerife
€ 39 / week
19/06 to 20/08
More Accommodations in Spain