Professors & Course Syllabi in Spain
ENFOREX is extremely proud of our faculty. All of our teachers are specially trained in teaching Spanish as a foreign language and many hold a Master or Doctorate degree in their area of specialization. They are seasoned experts in a variety of specific courses and topics such as Spanish Linguistics, History, Marketing and Tourism. In addition to their many years of experience, our faculty is dynamic, open-minded, friendly and incredibly motivated.
Each school's Academic Coordinator selects teachers based on their training, inter-personal skills, patience and - most importantly – their enthusiasm. All of these qualities also make the ENFOREX teacher the student's best friend. The youthfulness, vibrancy and considerable experience of ENFOREX's teachers is so impressive that they have been the subject of research articles in a number of international education and study abroad journals. Additionally , many of our teachers are published scholars in their field.
All course syllabi have been created by a team of Enforex professors under the direction of our Academic Director, following the requisites and guidelines of the Cervantes Institute and the Common European Framework of Reference for Languages. The curriculum is also adapted to the U.S. University Credit System. If you wish to review a professor's CV or any course syllabi, we are always happy to provide them.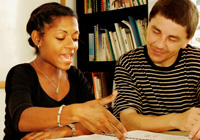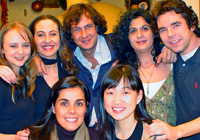 Latin America Teaching Staff (Partner Schools)
We set the highest standards for our teaching staff in Latin America. Most professors hold university degrees, are specially trained in teaching Spanish as a foreign language, and implement the same communicative methodology that has made our courses in Spain so effective.
Teachers are rotated on a regular basis, so you get used to hearing more than one voice. No matter which country you choose, you'll find a committed staff of professors dedicated not only to improving your language skills, but to helping you feel at home.