Study Spanish in Tenerife, Spain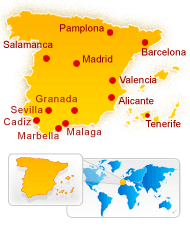 Spain destinations
Set in the Atlantic Ocean, Tenerife enjoys a mild climate during the fall and winter with temperatures around 22° C, so the island - the largest of the Canary Islands - naturally welcomes a steady flow of visitors from Spain and abroad.
In addition to its amazing climate and beaches, Tenerife has other important tourist attractions including a national park and two UNESCO World Heritage sites. During your trip to the island you will not only experience a sunny beach vacation but you will also enjoy beautiful natural surroundings and important cultural sites.
Among these sites you will find the highest peak in Spain, known as Mount Teide; or the Cliffs of the Giants, an impressive vertical cliff formation that the mythical "gaunches" (primeval inhabitants of the Canary Islands) referred to as "The Wall of Hell".  Discover the irresistible call of Tenerife's unique landscape!
Come to learn Spanish in Puerto de la Cruz, Tenerife and discover it for yourself!
Want to learn more about Tenerife? Check out our handy Tenerife travel guide to discover all that Spain's "island of eternal spring" has to offer: things to do, what to see, when to go, interesting little facts and tid-bits and much more!