Learn Spanish in Tenerife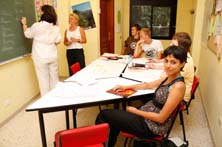 When you study on this beautiful Canary island, you'll enjoy the opportunity to learn how to scuba dive! This special course - only offered at the Tenerife Spanish School - allows you to take Spanish lessons of any level in the morning + scuba lessons in the afternoon.
Another option of note in Tenerife is the Super Intensive Course: 30+5 lessons per week as well as the part time intensive course of 10+5 lessons. Most other destinations only offer up to 25+5 lessons per week, so if you're up to the challenge of 7 lessons per day this is the course for you.
Please consult the pages listed below for more program information and details about the Spanish courses offered in Tenerife.
Executive One on One Course
Spanish for Adults 50+
Student Group Travel
(8+ students)
Christmas Spanish Course