Learn Spanish in Barcelona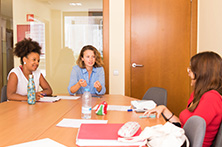 Barcelona is not only a vibrant and lively city packed with monuments, museums, art and where there are endless cultural activities and bustling nightlife, it has also been the setting of popular movies such as All About My Mother by Almodovar and Vicky Cristina Barcelona by Woody Allen. The tightly knit streets of La Rambla, the many different food markets which fill the air with tempting and exotic smells, the Mediterranean beaches were the cool crowds bask in the sun, make of Barcelona an enchanting city that many people fall in love with and either never leave or return to as often as possible.
Therefore, the city offers the perfect environment for taking Spanish classes. Located in the "Eixample" district, right at the heart of Barcelona, our school is within walking distance of Las Ramblas, the university, cultural centers and much more. Easily accessible by Metro (the nearest stops are Rocafort, Urgel, Plaça Espanya , Universitat, Plaça Catalunya) and by 6 different bus lines, Enforex invites you to choose one of our Spanish courses in Barcelona designed to enable you to reach the top of your potential and skills, whatever your level.
What follows is a brief description of each of the different types of Spanish classes in Barcelona offered by our school. Take a careful look at their characteristics:and choose the one that best suits your need. whatever you are looking for, we are confident you will find it with us!
General Intensive Spanish Courses

Specifically designed to suit the largest amount of people possible, this is an open-ended program that can be taken for any amount of time spanning from one week to a full year. Flexible to the core, the course can be started any month of the year, with prices varying according to the duration chosen. Individual classes are also available, as well as the ultimate option for itinerant students: our travel course, which allows students to continue their program through various cities for no additional cost.

Special Spanish Courses

Some courses are designed to target the public in general and some courses are meant to fulfill the needs of specific people with specific needs. Our Special Spanish courses are part of the latter group: tailored for demanding customers who know exactly what they want, our Spanish classes in Barcelona offer the possibility to have subject-specific programs focused on the preparation for the DELE exam and the PAU exam, as well as a Spanish course aimed at foreign Spanish teachers. Additionally, our school also offers individual classes and a Christmas program to make the most of the festive season.

Business Spanish Courses

The demand for language skills within the business environment is ever on the rise, and with close to 500 million people speaking Spanish, this is quickly becoming one of the most valued assets among young entrepreneurs. Our school in Barcelona offers a variety of courses with a business focus, verging from one-on-one lessons of business Spanish to a full program revolving around commercial terms. Additionally, we also offer Spanish classes in Barcelona with the possibility of embarking on relevant internships, or even on paid work placements in the hospitality industry.

Active Spanish Courses

We have devised this section only for those who feel they must do something with their hands, as well as with their minds. Well, what better, then, that learning Spanish language, with all the relevant terminology related to cooking, and putting the theory to practice with guided cooking lessons. Learn all about Spanish recipes and cooking techniques and get ready to export the mouthwatering tastes of Mediterranean and Spanish cuisine to your home country!

Junior Spanish Programs

At Enforex, we have also thought about the little (and not so little) ones! Take advantage of our Intensive Spanish course for teenagers, or send your child abroad for the invaluable experience of a school semester or year abroad in Barcelona. Similarly, we also organize a series of summer camps for children aged 5 to 18!
Please use the links below for our complete program information.
Long Duration Courses
(from 8 weeks)
Travel & Learn Spanish
University Placement Course
PAU Preparation Course
Christmas Spanish Course
Spanish Program with University Credits
Student Group Travel (8+ students)
Executive One on One Course