Spanish Class Schedules
As soon as you arrive at the ENFOREX center of your choice, our staff will administer an oral and written placement test to accurately determine your level of Spanish.
The written placement test takes place one hour before classes every Monday. Only absolute beginners do not take the placement test.
Classes are held Monday through Friday from 9 am to 1 pm or 2pm to 6pm. Cultural workshops take place at 1:30pm and are available to both morning and afternoon students. Afternoon sessions are normally reserved for our super intensive courses.*
Please note that our Spanish courses are scheduled into either morning or afternoon blocks, but we cannot guarantee placement in one session or the other. This depends on the course level and number of students enrolled in the course, and is determined by the school's Head of Studies on the first day after the placement test.
Every lesson lasts 55 minutes and two teachers are assigned to each class, rotating every two lessons.
* Exceptions to the schedule described above: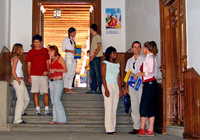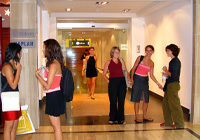 Contact us for Spain partner school schedules: Cádiz (45 min. lessons) and Tenerife (50 min. lessons)