Enforex Accommodations in Spain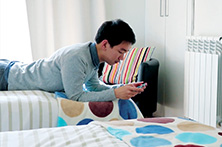 At Enforex, we understand that the quality of your accommodation in Spain will play an integral part in your experience whilst taking any of our Spanish courses. We accordingly take special care to make sure that each and every one of our housing options will make you feel comfortable, cozy, safe and at home.
One of our staff members personally visits each accommodation and carefully judges the quality of the site through a strict approval process. During more than 15 years of experience choosing accommodations, our guidelines and procedures have proven to be highly effective.
Learn more about our diverse accommodations in Spain and consult their corresponding descriptions, features and prices in the pages listed below: