Hotels & Private Apartments in Spain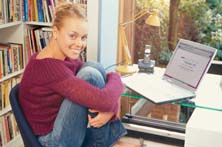 In every city, there are rooms of varying sizes and apartments from studios to multi-bedrooms within walking distance from the school, all of which offer wireless internet access.
In all Enforex destinations we have private apartment accommodations specially available for our students; you can choose between a studio (1 bedroom) or an apartment (2-3 bedrooms).
If you prefer to find your own private accommodation, we will be more than happy to suggest and/or book hotels, hostels and apartments for you according to your needs and preferences.
For further information and prices, contact us!
2016 prices and practical information
Location
Studio
Apartment
Granada
€ 250 / week
€ 690 / week
Salamanca
Tenerife
€ 290 / week
€ 590 / week
Alicante
€ 390 / week
€ 890 / week
Madrid
€ 450 / week
€ 1290 / week
Sevilla
€ 790 / week
Barcelona
€ 500 / week
€ 990 / week
Marbella
€ 550 / week
€ 890 / week
Malaga
€ 650 / week
Valencia
More Accommodations in Spain