Learn Spanish in Cartagena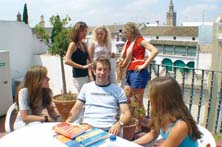 Enforex's Cartagena Spanish school sits on a truly privileged location. Close to the "Ciudad Vieja", the city's charming and fascinating old town, your classes will be set in surroundings that will help you put the cultural aspects of the city into historic perspective. The school is also close to the beach, which means that after class you can go take a dip in the Caribbean.
The school building is fully equipped with modern comforts including internet, a cafeteria… even a garden that is the perfect place for taking a break or studying between classes.
In a beautiful city like Cartagena, we couldn't help but choose a unique location for our school in an area that allows us to offer you quality service. This is an ideal place for you to quickly advance in your Spanish studies while immersed in Spanish-speaking culture.
Minimum age: 18 years old
Partner school
Location
The building is a colonial house with a Caribbean atmosphere
Close to the "Ciudad Vieja", the city's charming and fascinating old town
Close to the beach
Facilities
Reception area
Internet access
Cafeteria
Garden
Other Spanish Schools in Colombia