Learn Spanish in Playa del Carmen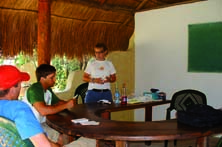 You only need to look at some of the photographs posted on these pages to see how spectacular it will be to study Spanish courses in Playa del Carmen. This beautiful Mexican gem of a city features turquoise waters that lap at the shoreline, with opportunities for all kinds of water sports as well as the more relaxing option of simply lying back on the beach under the sun.
The following Spanish courses are available in Playa del Carmen, Mexico. Please use the links below for course details:
Spanish Courses in Playa del Carmen, Mexico
Playa del Carmen has a reputation as a tranquil town, so it definitely has the right atmosphere for studying – and you might just find yourself learning about more than the Spanish language. A trip to impressive nearby Mayan ruins will tell you all about the history of the region, and you will find yourself struck dumb with awe when you come face to face with the magnificent ancient temples that dominate the sites. The history of the region is just as important to the culture as is the present day way of living, so do not miss out on this chance to see more of the region and explore the Mayan city at Chichen Itza.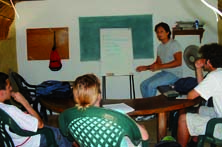 The school itself is very impressive, with pretty thatched roofs and amazing tropical gardens framing your learning experience. You can also enjoy lots of extra activities and excursions alongside your classes, such as horseback riding, windsurfing, snorkelling and other water activities, yoga, movie sessions in Spanish to help improve your language, cooking classes to help you master the delicious traditional Mexican cuisine, beach volleyball and trips out and around the city. You will be pleased to hear that there is also a free wireless internet connection, so you are more than able to stay in touch with everyone back at home without having to rack up a huge phone bill!
There are some really exciting options in Playa del Carmen for courses that are not common elsewhere. Our Christmas in Mexico course is a great way to experience a unique side to the Mexican culture, learning about the way that a different country celebrates Christmas whilst also learning their language and getting a grip on their traditions. You do not just have to watch – you can dive right in, so this course is a great way to spend the festive season if you are fed up of bickering relatives and endless leftovers!
We also have specialised courses such as the Medical, Legal, Tourism or Business Spanish programs, as well as courses for teachers, alongside the more normal programs which are taught in most Enforex Spanish language schools.