Learn Spanish in Oaxaca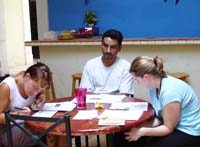 The beautiful colonial building that serves as the language school is the perfect setting for Spanish courses in Oaxaca. Far from being lost in the history of the area, you will be within easy reach of all the amenities of the modern world – there are shops, cafes, restaurants, and even internet vicinities very close to the school, and you can also visit museums, art galleries, and the gorgeous 16th century Santo Domingo convent close by in the area. There is a wireless connection and a computer room with the internet so that you can easily stay in touch with everyone back at home with no problems, and never lose track of any important communications you need to make! The school also boosts a huge patio area where it is common to find many of the students spending time together between their classes, lending a real social aspect to the lessons.
The following Spanish courses are available in Oaxaca, Mexico. Please use the links below for course details:
Spanish Courses in Oaxaca, Mexico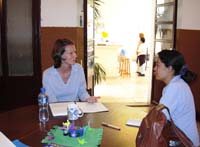 There are many different categories of course available in Oaxaca, so you are really spoilt for choice! Alongside the Enforex staple courses of the intensive and super intensive programs, there also some fairly unique opportunities here that you will be hard pressed to find elsewhere. You can also, of course, take part in private Spanish lessons, and the flexibility here for how much time you spend in groups or alone and how many lessons you take per week are great. In comparison to some other schools, you are much freer to tailor the programs to your own requirements.
The Christmas in Mexico course is one of the most exciting. If you have never spent the Christmas holiday abroad, now is a great chance to try it – you will be fascinated by all of the unique Christmas traditions carried out in Mexico, as festivals are carried out in every city and town across the country. Not only will you improve your knowledge of Spanish, but you will get to spend time with the school enjoying cultural activities in the area to do with the holiday, which is a great Christmas present to give to yourself!
If you want to learn Spanish in Latin America for a specific reason, you might want to take one of our Professional Spanish courses. Arming you with a particular vocabulary that will aid you in your field, these specialised courses can be a godsend for those needing a very specific type of Spanish knowledge.
Spanish teacher training is also available in Oaxaca, so do not hold back – this city really has a course for everyone!