Learn Spanish in Marbella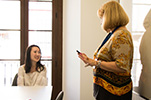 If you're looking to stay active while studying Spanish, Marbella is the place for you. This is the only destination in Spain where you can combine your intensive Spanish course with tennis or golf lessons, which makes it a really unique choice with a lot of appeal! With the same amount of lessons as any other Spanish course and then the extra activities on top, it is the perfect combination of fun and learning which could give you more than one new skill to take home with you and show off with your newfound expertise. This is the real unique feature which you can experience in the city, but there are plenty of other things to look forward to as well including courses which are a little less active if you would prefer that.
Marbella means sun, the Mediterranean Sea, relaxation… And with Enforex, it also means a great place to learn Spanish, no matter whether you are starting out as a complete beginner or you already have some knowledge of the language! Our comfortable school in this Spanish beach town offers a broad variety of courses and programs that range in focus from academic study to entertaining classes perfect for your Spain vacation. You can learn Spanish in traditional classes, enroll in a year long course to really master the language, learn business Spanish to get you ahead in your career… and you can even learn flamenco dancing or sports like golf or tennis while you perfect your Spanish. Learning does not have to be a serious and solemn affair, and it can actually be a lot of fun – as you are sure to find out when you take part in one of our courses, as the focus in every lesson is having a good time so that your mind is more receptive to the learning and it sticks in your head that much easier.
A number of different levels are available for each Spanish class we offer, so it does not matter if you want to use your vacation to start learning Spanish as a complete beginner, or if you need specialized Spanish instruction to help your company achieve maximum success within the Spanish market. No matter what your reasons for coming here to learn are, the Enforex Marbella school has the course for you! All you have to do is to take a look at the information here and decide which of the courses is going to suit you the best, and then it is a case of booking your lessons to start on any Monday of the year since the programs are almost all offered year round!
The following Spanish courses are offered at our Spanish language school in Marbella. Please use the links below to consult complete program information, with all of the details that you will need in order to decide which course is the one for you.
Long Duration Course
(from 8 weeks)
Travel & Learn Spanish
Executive One on One Course