Learn Spanish in Malaga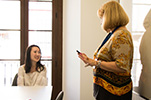 The Enforex school in Malaga is designed in harmony with its natural environment. If you are not much of a city person but want to have an urban center at hand, then this is the perfect environment for you as you will be able to enjoy both small town charm and a big city just a short distance away as part of the tourist attractions here.
The following Spanish courses are offered in Málaga. Please use the links below to consult complete program information.