Learn Spanish in Coronado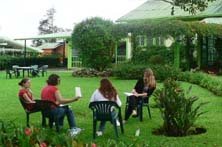 The Enforex language school in Coronado allows you to enjoy all the charm of a smaller Costa Rican city, whilst also only being a short distance away from one of the bigger ones – the perfect mix. An old farm converted into a school complex will be the site of your Spanish courses in Coronado: with nine classrooms, a multimedia lab with six computers and internet access, a resource library, cable television, and a games area, you will enjoy all the amenities of modern life whilst taking in the historical side of Costa Rica, and enjoying the biodiversity too. The school site holds an amazing one hundred different species of plants and trees over five thousand square metres of tropical gardens for you to explore –photographers especially will love to wander amongst the exotic delights of this area!
The following Spanish courses are available in Coronado. Click on the Spanish course you're interested in to see more details.
Spanish Courses in Coronado, Costa Rica
The good news for younger students is that the age limit here is a lot lower than in other places. If you want your children to learn with you, they can start at the age of ten so long as you accompany them. When travelling with a group – perhaps a small school class, or as part of a family or group of friends – teenagers from the age of fourteen up are accepted, and solo travellers from the age of sixteen are also welcome. This makes it a great choice for those under the age of eighteen who are really keen to get stuck in to some Spanish lessons in Latin America.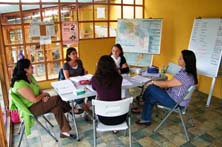 There are four programs available at the Coronado school – the intensive group program is our most popular, and is suitable for learners of all ages and abilities. The courses are fun and engaging, so there is no need to worry about losing concentration – we will make sure that your attention stays right with us!
If you are looking for a combination of learning as part of a group, combined with some private One on One classes then try out the Super Intensive combination course in Coronado and you will soon begin to feel totally immersed in the language and culture surrounding you.
If the idea of studying in a group puts you off, do not worry – you can take private lessons too, and as these only occupy ten hours of your time each week, you will have plenty of extra time for exploring the city and going on excursions around the area, or taking part in some additional activities.
Meanwhile, if you want to spend some time helping others, our volunteer program is a great way to start. This comprises four weeks of Spanish study to help you get your language skills up to scratch, followed by four weeks of voluntary work around the area that will be as rewarding as they are useful – both to the people that you are helping, and to your own language proficiency.