Spanish Courses in Alicante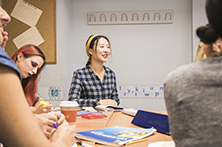 Alicante is a wonderful city to combine a bit of fun with a bit of work, and maybe even – or learn Spanish! The perfect place to seek shelter away from the constant hustle and bustle from a big city, here you will be able to take a step back and think about other things untroubled by the routine of everyday life. At the same time, its size ensures that all the amenities and services that pertain to a modern lifestyle are all easily within reach. For these reasons, Alicante features among the most popular destinations in Spain among people looking to embark on a Spanish course in the country.
The Enforex school in Alicante complies with the highest standards of quality that characterizes our organization and offers a rich variety of courses, specifically designed to address the different requirements of our students. With close to 20 taylor-made Spanish courses available from our centrally-located venue, we are certain you will find the right option for you. Here is a general description of our categories, followed by direct links to consult out full program information:
General Intensive Spanish Courses
Our widest and most popular course, this program in designed to supply the demand for flexible and specialized Spanish lessons all year long. Starting every Monday throughout the calendar year, Intensive and Super Intensive programs can be engaged at our school in Alicante at any stage and with varying degrees of commitment, from ten lesson per week, to twenty five language lessons per week plus an added five lessons focusing on Spanish culture at large.
Special Spanish Courses
Our offer in Alicante includes four special Spanish courses, individually designed to fulfill particularized requirements for specific groups of people. Among the most popular special Spanish courses in Alicante feature the students group program, available to groups of eight or more students at a time.
Business and Professional Spanish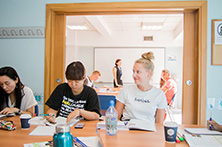 Enforex boasts business and commercial Spanish courses in a great majority of its schools. We understand that a great motivator to learn Spanish and improve your proficiency is the practical benefit that can be derived at a professional level from boasting improved skills in a foreign language – especially if that language is shared by over 400 million people. For this very reason we offer the one-on-one variety of our program with a special focus on business Spanish. Additionally, we also offer a combined language course of at least four weeks, which culminates in a two to four month paid position in the Spanish hospitality industry.
Junior Spanish Programs
No one enjoys Alicante more than the young: large enough to strike as exciting, but small enough to be perfectly safe; always graced with temperate weather that doesn't quite get to be scorching in the summer and stops well short of freezing in the summer; and, most importantly, hugged by a vast stretch of beachfront that is enticing at the very least, it almost seems as if Alicante had been founded 3000 years ago with modern younglings in mind.
Our Junior courses in Alicante include a version of the Intensive or Super Intensive program described above, with a special emphasis on teenager students. The class is comprised solely of 14-17 year-old students and the accommodation offered is always arranged through host families, as we believe this to be the most advisable form of lodging for young persons of that age group. Alternatively, teenage students can also enroll on our Study Abroad Program, where they will profit from the experience of attending a Spanish school on a daily basis.
On the links below you will find all the information you might need about any of these Spanish courses in Alicante, including their duration, prices starting dates and more. So start browsing, and find the best course for your needs tight here: