Spanish Schools in Spain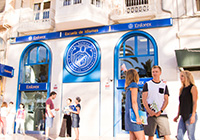 All Enforex Spanish Schools in Spain enjoy modern facilities, the latest amenities and central locations in the country's most beautiful and emblematic cities. Check out the following links to learn more about each of our 12 Spanish schools in Spain.
Each school has its own unique characteristics. Some are large, multi-storey edifices while others are small and familiar. Some have roof terraces while others are just a stone's throw from the beach or have a school café.
While they don't have identical features, all of our schools are located in each city's most happening districts and share the following signature Enforex benefits:
Open all year round, even during Christmas and Easter
Multilingual staff and reception desk
Modern yet cosy facilities
Centric locations
Computers with free internet access
Wi-Fi (wireless internet) throughout the building
Accommodations at a maximum of 30 minutes from the school
Library services
Common student areas
Classrooms with ample natural light