Learn Spanish in Pamplona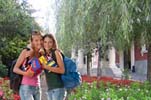 The number of specialized courses offered by the Enforex school in Pamplona gives you an insight into the painstaking process involved in selecting the content for each one of these specially designed courses as well as the level of competency possessed by each one of the teachers that must teach these very narrow topics. Rest assured that after completing a course in Pamplona, Spain, you will have acquired all the Spanish that you need to be successful in a variety of professional environments in the future, as our staff are highly trained and have the skills to pass on this important knowledge to a large number of students at a time – and with our small group sizes, they will be able to be teach even more effectively, homing in on each student's strengths and helping them with their weaknesses as well. No matter what level you are starting from when you learn with us, you will be stronger than ever when your course comes to an end, with a higher level of proficiency than you would have thought possible even in just a short course length.
The Enforex School in Pamplona offers its students a truly fantastic study environment in which to learn, which is ideal for those needing peace and quiet to really get the most out of their study time. We have resources and common areas set aside to allow you to learn more. A course in Pamplona will provide you with the opportunity not only to learn a language but also to exchange knowledge with other language enthusiasts, thereby gleaning the maximum benefits from your study abroad experience and getting the most learning possible done within a short space of time – and it is likely that you will in fact surprise yourself with how much you are able to learn so quickly.
Pamplona is a unique destination for taking a Spanish course, as Spanish for Medical Professionals and Spanish for Engineers are only offered hereout of all of our other locations. This means that if you are in the business of medicine or engineering, this is the perfect place to expand your professional horizons – and it could be a course that really increases your chances of being able to get a better job in the future or to earn more money from more clients if you are running your own business. This could be the chance that you have been waiting for to really enhance your life!
Otherwise, please note that the Intensive & Super Intensive Spanish course options differ slightly at this partner school than the way that they are set up at other schools. The course includes 25 lessons per week rather than the normal twenty, so you are getting a lot more time in the classroom with which to pick up the language as quickly as possible.
Please consult full course details and starting dates by clicking on the links below in order to find out more about each individual program: