App Description
This is an app for mobile phones tailored for students at ENFOREX, who will have their own "Spain pocket guide" in English, with basic information about Spanish habits, emergency telephone numbers, places of interest and specific resources for students, such as schedules, maps, addresses and contact information of each of our schools in Spain.
Our application will give you access to:
Enforex emergency phone numbers. With a single click you will be able to dial the number, or simply save it in the memory of your smartphone.
Enforex transfer service phone numbers for each of our destinations. With a single click you will be able to access the service or to save it in you phone.
Contact information of the school you intend to attend.
Useful telephone numbers in the city, such as numbers for emergencies, pharmacies on duty, taxi services, tourist information, etc.
Map and address of each of our schools at Enforex.
Places of interest in each of the cities you intend to visit with Enforex.
Buses and other public transport in the vicinity of the schools.
Spanish customs: opening hours, meals, siesta...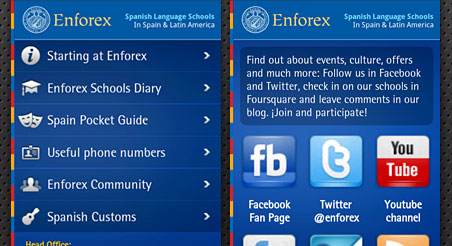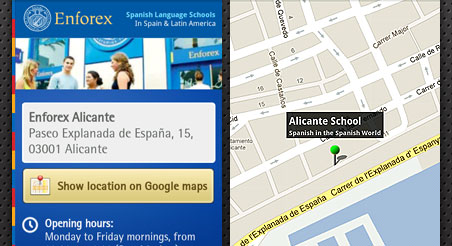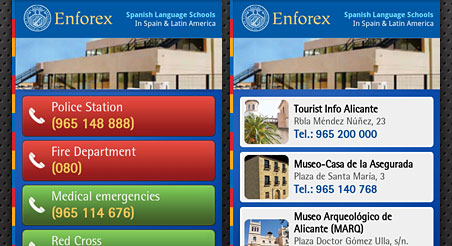 Operating System
Apple iOS 4.0 compatible with iPhone, iPod touch, iPad 1 and iPad 2
How to Download the "Spain Pocket Guide"
The Enforex guide to Spain is available in the "Google play" and in the "Apple Store"; you can find it on the Android application web page when you type in the search word 'Enforex'.
Furthermore, we would like to remind you that we have also made the QR code available to you so that you are able to download the application directly from your phone by scanning the 2D barcode.
Download using the 2D Android code
Scan the 2D code that you find on the specific Android or Apple page with your smartphone and you can download the application straight away for free. So what are you waiting for to have your guide to Spain and Enforex on your phone or tablet? It's free, it's quick and it's easy.
In order to scan the 2D code from this page you must have a 2D code reader installed on your mobile, if you don't already have one we recommend a couple that are also free to download from the Google play along with our application for Android mobiles:
Note: There are numerous applications available that read 2D codes for various operating systems. We have proposed two well-known options which allow you to download our application from the 2D codes provided, however you can use whichever one you prefer.
How the 2D code scanner works
Once you have downloaded one of the 2D code readers, open it and place your mobile in front of the computer screen at the height of the code that we have provided as if you were taking a photo. Move the phone closer, until the code is framed by your phone screen. If you have done this correctly you will hear a beep and you will see that it opens a navigation window which will take you to the mobile version of the Google play where you are able to download the Enforex application directly.