Playa Jaco Attractions & Highlights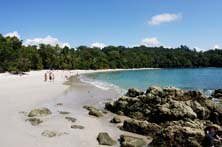 Beach
It's only natural that Playa Jaco, which literally translates to "Jaco Beach", is an excellent destination for beach lovers. The town is set along 3 kilometers of beach, along which you can find all sorts of surf shops, restaurants, bars and ice cream shops. To both the north and south of Playa Jaco, you can find a wide range of other sandy nooks to soak up the sun and take a dip in the water, namely: Playa Blanca, Herradura, Playa Hermos and the Parque Nacional Manual Antonio (see below).
Parque Nacional Carara
This national park is located just 15 miles north of Playa Jaco and is a favorite stop for anyone interested in seeing and experiencing tropical biology first-hand. Its 4,700 hectares of tropical forest provide an excellent opportunity to spot all sorts of monkeys, sloths, crocodiles, frogs, birds and other critters. Long a popular destination for bird-watching enthusiasts, the park has one of largest remaining populations of wild scarlet macaws.
Nightlife
If you're looking for excellent nocturnal fun, Playa Jaco is a party beach with a lively yet relaxed nightlife with bars located throughout the town.
Parque Nacional Manuel Antonio
Located south of Playa Jaco, the Manuel Antonio National Park is Costa Rica's smallest national park yet its second most-visited. Famous for its spectacular verdant landscapes, hiking trails and secluded beaches, it's also a wonderful place to spot all sorts of wildlife. Amongst its 109 species of mammals and 184 species of birds, you'll find sloths, monkeys, iguanas, toucans, hawks and much more.
More Costa Rica Travel Guides