Accommodations in Sosua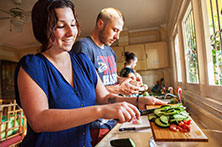 When you study Spanish in Sosua at the Enforex language school, you can stay in a school apartment or studio so that you do not have to book anything yourself or think about the arrangements before you set off. We will take care of everything on your behalf, so that you do not have to worry about it!
All of the options which we have available will provide you with an independent living experience, whether in an apartment right on the school campus or at a nearby hotel, so that you can have your own space and spend some quiet time studying after classes if you want to. The vast majority of our accommodation options are within a 10 to 20 minute walk from the school; the maximum distance is 40 minutes, and there are local transport options which you can take if you feel that you are too far away to comfortably walk. We will help you to navigate the town, too, so that you do not get lost on the way, and after a day or so you will find that you are able to get around perfectly fine with or without our help.
Our accommodation options are well located and perfect for discovering the city, and we choose them based on this factor as well as on the level of comfort that you will be able to experience while you are there. You can easily get around the city, either alone or with your new friends, and get a real feeling for the authenticity of Sosua each day after class. You will be sure to meet other students too, whether you stick around at the school in our common areas or you meet them at the hotel or apartment in which you are staying. This will give you someone to practice with as well as allowing you to socialise and mingle with other students, who are just as interested in exploring the city and learning more about the language as you are.
School apartment and studio stays include a single room with breakfast provided every single morning for you. You can choose whatever option you are more comfortable with, whether it be more privacy and independence or more interaction with other students, as there are of course elements of both which will suit different kinds of people. Of course, regardless of where you stay, you will always be able to take full advantage of our guidance and advice whenever needed, as you can contact us easily at the school whenever you need to. Plus, you can be sure that you are going to be able to come into contact with native speakers either way, so you can always find a way to practice your language skills – and no matter what, you will be able to get access to the same great tuition on whichever of our courses you may choose.
School apartment/studio (single room, bed & breakfast)