Enforex Accommodations in Latin America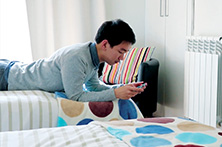 At Enforex we understand that where you stay can have a significant impact on your time abroad. After all, it's important to have a safe, comfortable place to spend your nights and to relax in your free time.
For these reasons, every Spanish school uses a strict approval process to select student accommodations in Latin America. Rest assured that each accommodation has been visited by one of our staff members, and we will monitor your experience to make sure everything goes smoothly.
Accommodations in Latin America
In every country, the primary option is living with a host family. Home stays offer full immersion, and are thus best way to improve your linguistic and cultural fluency.
In some destinations, you will also have the option of living in student apartments or residences.
2017 prices and practical information
--
Argentina

Bolivia

Chile

Colombia

Costa Rica

Cuba

Dominican Rep.

Ecuador

Guatemala

Mexico

Peru
Location
Type of accommodation
Type of room
No meals
Bed & Breakfast
Half Board
Price per week
Buenos Aires
Home Stay
Double room
-
$225
$310
Single room
-
$295
$385
Student Residence
Double room
$240
-
-
Single room
$315
-
-
Cordoba
Home Stay
Double room
-
$155
$220
Single room
-
$225
$280
Student Residence
Double room
$190
-
-
Single room
$300
-
-

Location
Private bathroom
Extra Day
Buenos Aires
$75 / week
$55 / night
Cordoba

Location
Type of accommodation
Type of room
Price
Extra Day
Sucre
Home Stay
Single room, Half Board
$215 / week
$25 / night
Student Residence
Double room, No meals
$215 / week
$15 / night
Single room, No meals
$269 / week
$20 / night

Location
Type of accommodation
Type of room
Price per week
Santiago de Chile
Home Stay, Bed & Breakfast
(no meals on Sunday)
Double room
(Available only for 2 people travelling together)
$190
Single room
$240
Home Stay, Half Board
(no meals on Sunday)
Double room
(Available only for 2 people travelling together)
$255
Single room
$315
Student Residence, No meals
Double room
(Available only for 2 people travelling together)
$205
Single room
$305

Location
Type of accommodation
Private bathroom
Extra Day
High Season Supplement
Santiago de Chile
Home Stay
$100 / week
$55 / night
-
-
Student Residence
Dec 27 to Feb 7, Jun 14 to Aug 8
$60 / week

Location
Type of accommodation
Type of room
1 week
Semana Extra
Bogota y Cartagena
Home Stay, Half Board
Single room
$220
$220
Homestay, Breakfast
Single Room
$190
$190
Residence, No meals
Single Room
190 $
190 $

| Accommodation | Private bathroom | Extra Day |
| --- | --- | --- |
| Accommodation, Single Room | $250 | $40 / night |

Location
Type of accommodation
Type of room
No meals
Bed & Breakfast
Half Board
Full board
Price per week
Heredia
Home Stay
Double room
-
$145
$155
$180
Single room
-
$155
$165
$190
Shared apartment
Double room
$145
-
-
-
Single room
$195
-
-
-
Playa Jacó
Home Stay
Single room
-
-
$190
-
Double room
(only available for two students traveling together)
-
-
$175
$180
Shared Apartment
Double room
(only available for two students traveling together)
$120
-
-
-
Single room
$170
-
-
-

Location
Type of accommodation
Extra Day
Heredia
Home Stay
$27
Shared apartment
$35
Playa Jacó
Home Stay (Single Room)
$30
Home Stay (Shared Room)
$25
Shared Apartment (Single Room)
$30
Shared Apartment (Shared Room)
$20

Location
Type of accommodation
1 week
2 weeks
Extra week
Extra night
Havana
Santiago de Cuba
Trinidad
Home Stay, Half Board
Double room
€ 250
€ 540
€ 290
€ 40
Home Stay, Half Board
Single room
€ 340
€ 730
€ 390
€ 60

| Type of room | Extra week | Private bathroom | Extra Day |
| --- | --- | --- | --- |
| Double room | € 267 | - | € 36 |
| Single room | € 363 | € 50 / week | € 49 |

Location
Type of accommodation
1 week
Extra Night
Santo Domingo
Home Stay
Half Board
Single room
$290
$40
Shared apartment
Self catering
Single room
$180
$30
School apartment
Autoservicio
Habitación individual
200 $
30 $
Sosua
School apartment
Bed & Breakfast
Single room
$200
$30
School studio
Bed & Breakfast
Single room

Location
Type of accommodation
Extra week
Private bathroom
Extra Day
Santo Domingo
Home Stay
$240
$60 / week
$35
School apartment
$195
$30
Sosua
$195
-
$30

Location
Type of accommodation
Type of room
No meals
Bed & Breakfast
Half Board
Full board
Price per week
Quito
Home Stay
Double room
-
$139
$149
$169
Single room
-
$149
$159
$179
Shared apartment
Double room
$119
-
-
-
Single room
$169
-
-
-

| Type of accommodation | Extra Day |
| --- | --- |
| Home Stay | $27 |
| Shared apartment | $30 |

Location
Type of accommodation
Type of room
1-3 week
4 weeks
Antigua
Home Stay, Half Board
Double room
$150
$585
Single room
$175
$685
Hostel (no kitchen)
Double room
$90
$360
Single room
$185
$770

Type of accommodation
Type of room
Extra week
Extra Day
Home Stay
Double room
$135/td>
$35
Single room
$160
Hostel (no kitchen)
Double room
$90
Single room
$215

Location
Type of accommodation
Type of room
No meals
Bed & Breakfast
Half Board
Price per week
Playa del Carmen
Home Stay
Double room
-
$165
$195
Single room
-
$195
$225
Shared apartment
Double room
$185
-
-
Single room
$225
-
-
Student Residence
Double room
$245
$275
-
Single room
$295
$325
-
Guanajuato, Oaxaca
Homestay
Double room
-
$165
$195
Single room
-
$195
$225
Shared apartment
Double room
$185
-
-
Single room
$225
-
-
Residence Oaxaca
Double room
245 $
275 $
-
Habitación individual
295 $
325 $
-

Location
Type of accommodation
Extra Day
Guanajuato, Oaxaca, Playa del Carmen
Student Residence
$45
Home Stay
$35
Shared apartment
$39

Location
Type of accommodation
1 week
Extra Night
Cusco
Home Stay, Breakfast
Single room
$165
$28
Student Residence, Half Board
Double room
$165
$28
Student Residence, Half Board
Single room
$240
$40

Location
Type of accommodation
Type of room
Extra week
Extra Day
Cusco
Home Stay
Single room
$165
$37 / night
Student Residence
Double room
$165
Single room
$220