Student Residences in Latin America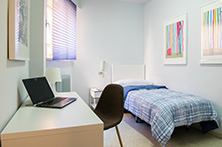 A few of our Spanish Schools in Latin America offer the option of living in a single or double room in a local student residence.
This is a wonderful opportunity to meet local and international students in a lively environment. Often times there will be social gatherings, events and parties in the common areas.
The residences are equipped with a common kitchen where you can cook all your meals.
More Accommodations in Latin America
Hotels & Private Apartments