Enforex Teaching Methodology
ENFOREX combines different pedagogical techniques, centered on a communicative approach, in order to reach every kind of learner. Our goal is to equip you with the skills and concepts necessary to feel comfortable understanding others and making yourself understood in any Spanish-speaking environment. In order to achieve this goal, the teacher combines both theory and practice, addressing all of the linguistic and functional pragmatic aspects of the spoken language, along with key socio-cultural information essential for gaining proficiency . Grammar, reading, writing, listening, speaking and vocabulary are always integrated in order to approximate the student to an authentic communicative environment.
Every lesson is independent but - as is the logical nature of any language - the use of grammar and vocabulary is cumulative and sequential from class to class.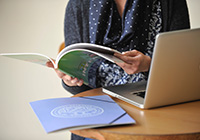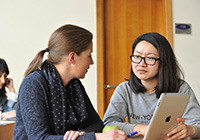 As an ENFOREX student, you are also encouraged to develop intercultural competence with a combination of knowledge, skills, and attitudes that will lead you to create positive relationships with the society that surrounds you. That's why our Spanish programs include the option of five extra cultural lessons per week (+ 5) that will help you reach a deeper understanding of Spanish traditions and customs.
All syllabi contained within our courses have been created by a team of Enforex professors under the direction of our Academic Director, following the requisites and guidelines of the Cervantes Institute and the Common European Framework of Reference for Languages. The curriculum is also adapted to the U.S. University Credit System. If you wish to review a professor's CV or any course syllabi, we are always happy to provide them.
Spanish Teaching Materials
All ENFOREX course books are written and designed by our very own teachers, following a proven methodology based on years of experience and academic training.
Right after the placement test on the first day of class, you will receive a textbook and workbook corresponding to your level of Spanish:
Basic / Básico / A1
Elementary / Elemental / A2
Intermediate / Intermedio / B1
Advanced / Avanzado / B2
Superior / Superior / C1
Proficiency / Perfeccionamiento / C2
If your Spanish level improves substantially, we are always willing to bump you up to the appropriate level. In this event, you must pay for any new or additional course books.